We traveled over 70,000 miles last year not because we had to, but because we felt it was our duty to connect with our communities of South Texas and share information about the importance of the oil & gas industry, the impact it has on the Texas economy, and in what ways it will help their communities in the short and long term. Every STEER employee is a leader in their respective field and we all share a passion for community involvement and education which motivates us to do our very best work day in and day out. Below, you will find a list of our executive staff.
---
Omar Garcia
PRESIDENT & CEO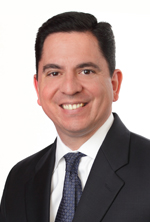 As President of the South Texas Energy & Economic Roundtable (STEER), Omar Garcia facilitates communication, education and public advocacy surrounding the production of energy resources in South Texas. An experienced industry leader, Garcia is an expert on business opportunities associated with the Eagle Ford Shale.
Garcia works directly with the oil and natural gas industry, local officials, community members, regional stakeholders, educational institutions and economic development organizations to ensure that the oil and natural gas industry in South Texas is advancing in a positive way that is mutually beneficial to both the community and the industry.
Garcia is a former vice president of the San Antonio Economic Development Foundation. He has over 12 years of economic development experience in working for the Texas Governor's Office, TIP Strategies, Corpus Christi Regional Economic Development, the City of San Antonio Economic Development Department, and the San Antonio Economic Development Foundation. In addition to his economic development experience, Garcia spent two years working for Bank of America as Vice President of Business Development for their Treasury Management division.
In 2010, Governor Perry appointed Garcia to the Texas Economic Development Corporation. Garcia is a certified economic development finance professional through the National Development Council. He is a Graduate of St. Edwards University with a degree in International Business & Spanish.
---
Christopher Ashcraft
VICE PRESIDENT
As Vice President of STEER, Christopher Ashcraft plays an instrumental role in ensuring collaboration, advancement, and support of the various stakeholders impacted by and involved in the development of the Eagle Ford Shale region.
Ashcraft is an experienced industry professional with unique insights across various facets of the industry and the South Texas region. Prior to joining STEER, Ashcraft served as the Alternative Energy Transportation Manager with the Alamo Area Council of Governments. There, he founded the South Central Texas Natural Gas Vehicle Consortium and managed the Alamo Area Clean Cities Coalition, a coalition with the mission to replace the consumption of foreign oil with domestic fuel for American Energy security. He has also held the position of San Antonio Clean Cities Coordinator, where he worked to develop public and private partnerships that promote the national Clean Cities initiatives aimed at securing national economic, environmental, and energy security.
Ashcraft has provided environmental, alternative energy and agricultural analysis to the federal government and numerous state and local organizations. While employed by the United States Environmental Protection Agency, he assisted with issues related to agriculture, rural communities, and alternative energy.
Ashcraft holds a Bachelor's degree in political science from the University of Maine with a minor in military science and leadership development. Upon graduation, Christopher Ashcraft received a Commission as an Officer in the United States Army where he completed his military service obligations with an honorable discharge.
---
Justine Carroll
Director of Communications
Justine Hall joined STEER in 2015 as the Director of Communications. She is responsible for communication that comes from STEER in all facets, including both regional and national media, social media, board communication and the organization's website. Additionally, she is responsible for the planning and execution of STEER's annual Eagle Ford Excellence Awards ― an event that honors those in the Eagle Ford Shale region who are doing their part to protect the environment, give back to their communities and make safety a priority. The event, held in November, had more than 280 in attendance with approximately 40 award entries.
Hall also oversees the Communications Committee that works collaboratively to provide timely responses to media outlets, generate messaging for dissemination to the public, create fact sheets for South Texans and support the Eagle Ford Excellence Awards.
---
Yliana Flores
Vice President of External Affairs
Yliana Flores' main job function is to serve as the liaison between industry and stakeholders in the Eagle Ford Shale. Flores works with various groups including, local stakeholders, and elected officials such as County Judges, County Commissioners, Mayors, and City Councils to ensure a positive outlook on the industry. Her role benefits STEER and the oil and gas industry by consistently working to establish and maintain relationships that are vital to the community and industry.
The goal of Flores' role is to develop outreach strategies which allow STEER leadership to cultivate and enhance meaningful relationships with targeted, high-level external audiences. Flores' ability to make decisions in a changing environment and work independently while on the road makes her an effective member of the team.
Flores graduated from St. Mary's University with a Bachelor of Arts in English-Communication and recently completed her masters at UTSA in Public Administration. She started working at the Alamo Area Council of Governments (AACOG) Natural Resources Department as an intern through AmeriCorps. After she finished her 10-month program with AmeriCorps, Flores was offered a full time job with the Clean Cities Program, where she eventually became the Clean Cities Coordinator. After 4 years with AACOG, Flores transitioned to the San Antonio River Authority (SARA), as an Intergovernmental Relations Coordinator where she served as the liaison for SARA and their southern county boundaries. Her work included communicating with local officials and the community on topics that impacted SARA.
Within her first six months with STEER, Flores managed to increase the awareness of the STEER organization within the San Antonio region through outreach with young professionals. STEER's Millennial Committee recognized a gap between industry and young professionals. Through hard work, STEER has participated in several outreach events and reached an audience of over 200 young professionals. STEER has seen a surge of support that they hope will continue to grow over time.
Flores is currently actively involved in the Leadership Organization of Professionals (LOOP).
---
Haley Curry Bloemer
Special Projects Manager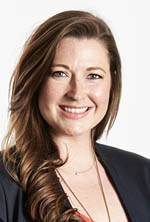 Curry works directly with oil and natural gas industry, media, educational institutions, economic development organizations and other stakeholders to ensure all parties are educated on the oil and gas industry, and advance development of communities and industry in a mutually beneficial capacity.
Prior to joining STEER, Curry served as the communications manager for Chesapeake Energy Corporation, handling communications and advocacy outreach in the Eagle Ford Shale. Responsible for stakeholder and media engagement, Curry also served on industry committees dedicated to keeping open communication with stakeholders in the industry.
Curry has 10 years of experience in strategic communications, public and media relations, and social media. Before working in the oil and gas industry, Curry worked at The Women's Museum: An Institute for the Future. During her time at the Museum, Curry ran all marketing and communications for the Smithsonian Affiliate museum, as well as the women's leadership program, Leadership America.
Curry is a graduate of Texas Tech University where she majored in public relations and minored in Spanish. Curry is also a graduate of Power Pipeline, class of 2009.